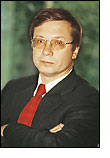 For the last 15 years both Moscow and the Moscow region have been developing along the same lines as a typical European or US megalopolis.
The laws of economics are as precise as those of Ohm or Newton, and just like Paris, London, New York and Los Angeles with their suburbs, Moscow is being fringed with low-rise communities, which in fact are nothing more other than densely populated extensions of the city itself.
Those willing to know the future of Moscow suburban areas in 10-15 years can take a look at Paris, London and New York's suburban communities today. Those arriving at Heathrow airport today can see how small patches of green along the way from Heathrow to Central London are giving way to large-scale single-family house developments.
The areas around Moscow that were dacha (holiday house) suburban zones, only a few years ago, have been transformed into executive, business or economy class residential zones of Moscow or are going to be re-developed in the near future. Where will these resort areas move? Where will be a place for a Muscovite to enjoy unspoiled nature and clean air, to watch domestic and wild animals in their natural habitat?
Originators of the ROUZA A LA SUISSE LUXURY RESORT IN RUSSIA project walked through the Moscow region and after a thorough study unequivocally decided on the Ruza district five years ago.
It took five years to buy lands and to create the integrated project. It will be the most attractive suburban residential and resort zone located close to Moscow, the Kremlin and Rublevskoye highway. In a few years, ROUZA A LA SUISSE will have the Golden Mile of its own.
The main feature distinguishing the project from its domestic and foreign equivalents is an integrated approach and the availability of a development plan for the district in general.
So far, there have been no comparable projects in Russia. It is an holistic and composite approach along with a harmonization of social relations that will ensure the ultimate success of ROUZA A LA SUISSE.
Vasily Boyko
Vash Finansovy Popechitel AO
Chairman